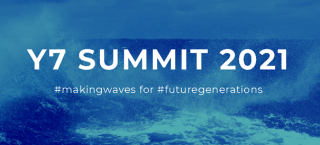 last-minute Y7 2021 Summit / G7-Jugendgipfel
sign up until April 30th
29.04.2021
Applications are now open to attend the Y7 Summit!
The Future Leaders Network is offering up to 500 young people the chance to attend the Y7 2021 Summit, which will be held virtually on 14 - 15 May, 12:00 - 16:00 BST.
The Y7 Summit is the official youth engagement group for the G7 (an annual gathering of world leaders from the seven most advanced economies). It's a unique opportunity for the youth voice to be heard at the highest levels of decision making.
As a guest at the Summit, you'll:
Be the first to hear the Y7 recommendations to world leaders - and to ask the delegates about their conclusions and how they arrived at them
Hear and engage with some inspirational speakers - watch out for some announcements coming soon!
Attend awesome workshops that will build your capability as a young leader to deliver meaningful change in the world
Network with hundreds of young leaders from around the globe
All you need to do is fill in this simple form by 17:00 30 April. We'll let you know on/by Saturday 1 May whether you've successfully secured a seat at the Summit!